CHAIN CONVEYORS

TECO chain conveyors are available with capacity ranging from 45 up to 500 t/h.
TECO chain conveyors transport the grain horizontally or angularly, free of damage and in an economical way.
All TECO conveyor chains are extra hardened to operate under hard working conditions.
Grain carrying scraper flights efficiently reduce the friction between the chain rails and the surface of conveyor box, they are made of plastic derlin material, connected by bolted system and assembled on the conveyor chain rails.
Chains move easily inside the conveyor box on special derlin plastic bobbins which are located inside the conveyor and closely spaced.
The chain conveyor sprockets are made of steel and extra-hardened by cementation. In comparison with welded conveyors which consist of one complete part, the repair, maintenance and assembly of the TECO conveyors are much easier because of the complete bolted system used.

Specially designed for intake pits, TECO chain conveyors handle the grain free of damage and with high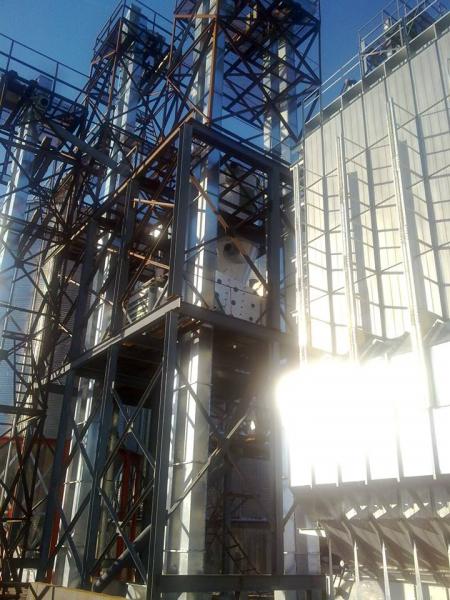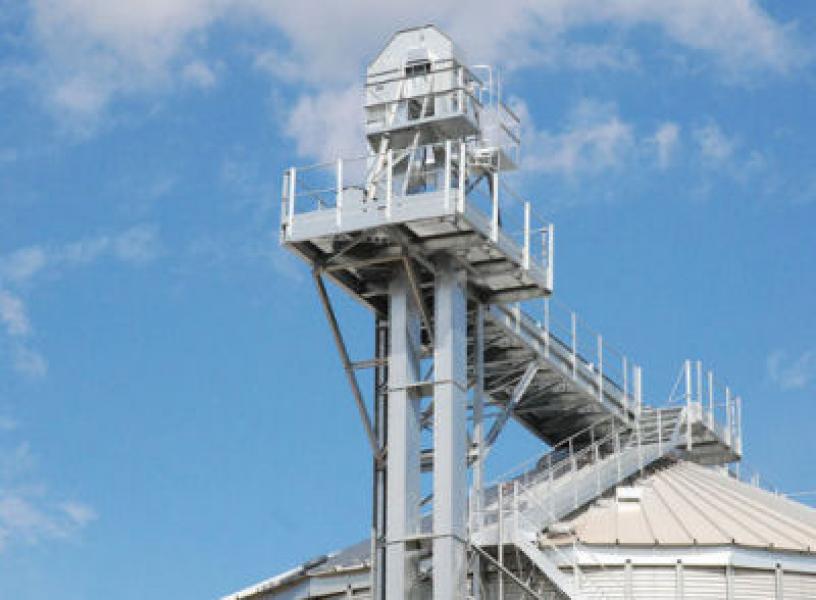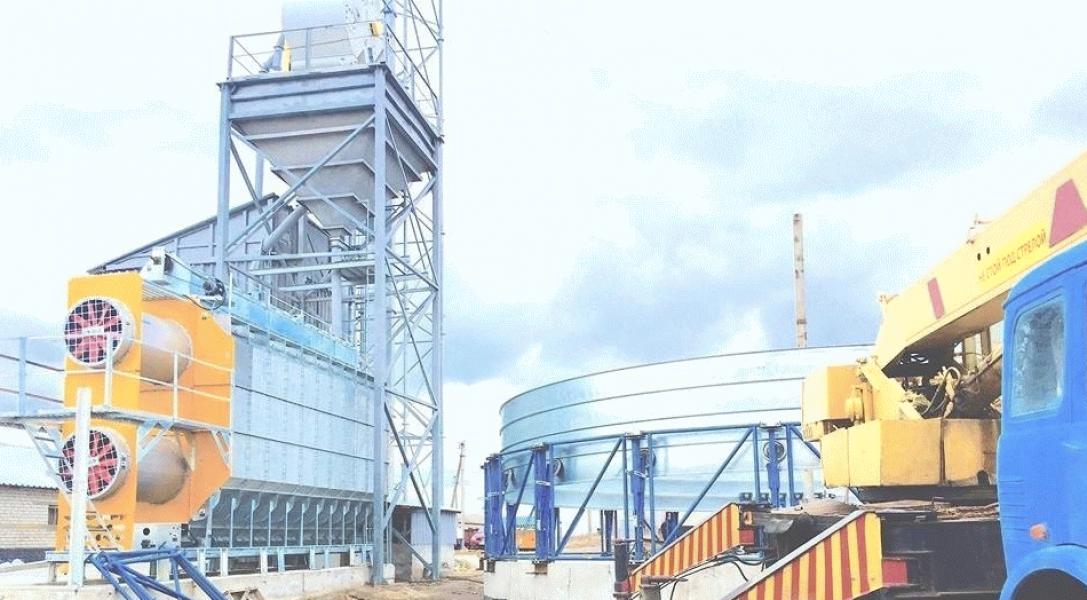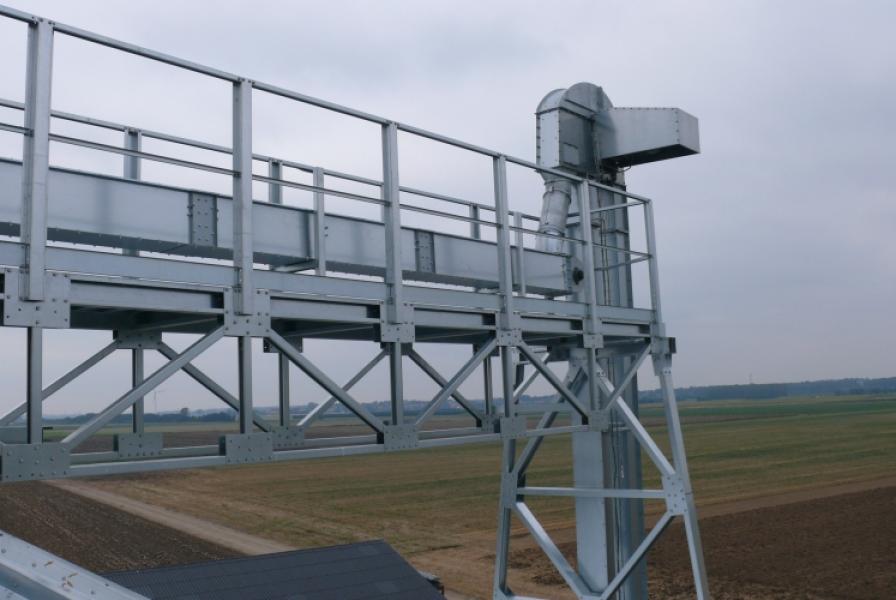 grain dryer,grain silo,grain bins,grain storge,grain elevator,grain conveyor,bucket elevator,chain conveyor,flat batom silo,hoper silo,Grain Products,Axial fan,Belt Conveyors,Bucket elevator,Centrifugal fans,Chain conveyor,grain cleaner,screw conveyor,Continuous flow dryers,Continuous grain dryers,Drum dryer
Dryers,Grading cleaner,conveyor dryer,Maize sheller,Rotary dryers,Screw conveyors
Square silos,Temperature systems,STORAGE,GRAIN BINS,HOPPER TANKS,UNLOADS,FANS ,HEATERS,TEMPORARY STORAGE,TOPDRY
BOLTED BINS,X-SERIES LADDERS,SPREADERS,CONDITIONING,IN BIN DRYERS,CONTINUOUS FLOW DRYERS,WATCHDOG TECHNOLOGY,BULLSEYE CONTROLLER,MATERIAL HANDLING,AIR SYSTEMS,DISTRIBUTORS,GRAVITY SCREENERS,MICRO INGREDIENT SYSTEMS,AUTOMATIC SAMPLERS,BULK WEIGHERS,TRUCK PROBES,STRUCTURES,GRAIN LEGS,Farm Storage Systems,Commerical Storage Systems,Grain Dryers,Grain Handling,Transport Augers,Used Equipment,New Equipment,GSI Grain Systems, Commercial Tower Dryer Service, Polaris ATVs, New Holland Equipment, USC Seed Treaters, Bush Hog, Farm King, Farm Grain Storage Bins, Commercial Grain Storage Bins, Hopper Grain Storage Bins, Excel Grain Dryers,Grain Handling Equipment,Grain Conditioning Systems, Bin Accessories,Flat Bottom Silos,Truck Load Silos,Farm Silos ,Farm Bins,Hopper Silos,Handling Equipment,Heavy-Duty Discharge Gates,Enclosed Belt Conveyors,Heavy-Duty ,Bucket Elevators,Industrial Discharge Gates,Heavy-Duty Chain Conveyors,Screw Conveyors,Belt Conveyors,Industrial Chain Conveyors,Bucket Elevators,Accessories
Livestock Equipment,Livestock facilities,Pig farming warehouses,Poultry houses,Turn-key projects,Water tanks,Metal Cladding,Metal Cladding,Metal Structures
tahıl silosu, tahıl siloları, hububat depoları, hububat depoları, tahıl konveyörü, kepçe asansörü, zincirli konveyör, düz batom silo, hoper silo, Tahıl Ürünleri, Aksiyel fan, Bantlı Konveyörler, Kepçe asansörü, Santrifüjlü fanlar, Zincir konveyörü, tahıl temizleyici, vidalı konveyör, Sürekli akışlı kurutucular, Sürekli tahıl kurutucuları, Kurutmalı kurutucu
Kurutma makinelar, Sınıflandırma temizleyicisi, konveyör kurutucusu, Mum rafı, Döner kurutucular, Vidalı konveyör
Kare silolar, Sıcaklık sistemleri, DEPOLAMA, TAHIL KUTULARI, HAZNELİ TANKLAR, BOŞALTIMLAR, FANLAR, ISITICILAR, GEÇİCİ DEPOLAMA, TOPDRY
MALZEME EKRANLARI, MICRO İÇERİĞİ SİSTEMLERİ, OTOMATİK SENSÖRLER, DÖKME TUTKALARI, KAMYON PROBULARI, DÖKÜLMÜŞ KAZANIMLARI, DÖKÜLMÜŞ KAZANIMLARI, BÜYÜK KURUTUCULAR, SÜREKLİ FLOW KURUTUCULAR, YATIRIMLAR, HASIR AYAKLARI, Çiftlik Depolama Sistemleri, Ticari Saklama Sistemleri, Tahıl Kurutma Makineleri, Tahıl İşleme, Nakil Verme, Kullanılmış Ekipmanlar, Yeni Ekipmanlar, GSI Tahıl Sistemleri, Ticari Kule Kurutma Servisi, Polaris ATV ler, New Holland Donanımı, USC Tohum İşleme Makineleri, Bush Hog , Çiftlik King, Çiftlik Tahıl Depolama Kovaları, Ticari Tahıl Depolama Kovaları, Hazne Tahıl Depolama Kovaları, Tahıl Kurutma Makineleri, Tahıl Islah Ekipmanları, Tahıl İklimlendirme Sistemi, Çöp Kovaları, Düz Silo, Kamyon Üstü Silolar, Çiftlik Siloları, Çiftlik Kasaları, Hazne Siloları , Kepçe Asansörleri, Ağır Hizmet Tipi Zincirli Konveyörler, Vidalı Konveyörler, Bantlı Konveyörler, Endüstriyel Zincirli Konveyörler, Kepçe Asansörleri s, Aksesuarlar
Hayvancılık Ekipmanları, Hayvancılık tesisleri, Domuz yetiştirme depoları, Kümes hayvanları evleri, Anahtar teslimi projeler, Su depoları, Metal Kaplama, Metal Kaplama, Metal Yapılar
Getreidespeicher, Getreidesilo, Getreidespeicher, Getreidespeicher, Getreidespeicher, Getreideförderer, Eimeraufzug, Kettenförderer, flaches Batom Silo, Hoper Silo, Getreideprodukte, Axialventilator, Gurtförderer, Becherwerk, Fliehkraftventilatoren, Kettenförderer, Getreide Reiniger, Schneckenförderer, Durchlauftrockner, Kontinuierliche Getreidetrockner, Trommeltrockner
Trockner, Sortierreiniger, Fördertrockner, Maisschieber, Rotationstrockner, Schneckenförderer
Quadratische Silos, Temperatursysteme, LAGERUNG, GRAIN BINS, HOPPER TANKS, UNLOADS, FANS, HEIZUNGEN, VORÜBERGEFÜHRTE LAGERUNG, TOPDRY
BOLLED BINS, X-SERIES LADDERS, SPREADERS, KONDITIONIERUNG, IN BIN TROCKNER, KONTINUIERLICHE FLUSSTROCKNER, WATCHDOG TECHNOLOGY, BULLSEYE CONTROLLER, MATERIAL HANDLING, LUFTANLAGEN, HÄNDLER, GRAVITY SCREENER, MICRO INGREDIENT SYSTEMS, AUTOMATISCHE SAMPLERS, BULKGEWÄCHER, TRUCK PROBES, STRUKTUREN, GRAIN LEGS, Farm Storage Systems, Kommerzielle Aufbewahrungssysteme, Getreide Trockner, Getreide Handling, Transportschneider, Gebrauchtgeräte, Neue Geräte, GSI Getreidesysteme, Gewerbliche Turm Trockner Service, Polaris ATVs, New Holland Equipment, USC Seed Treaters, Bush Hog , Farm King, Farm Getreide Lagerung Abfalleimer, Abfalleimer Abfalleimer, Abfalleimer Getreide Abfalleimer, Excel Getreide Trockner, Getreide Handling Ausrüstung, Getreide Konditioniersysteme, Bin Zubehör, Flachboden Silos, LKW Last Silos, Farm Silos, Farm Bins, Trichter Silos , Handhabungsgeräte, Hochleistungs-Entladungs-Gatter, Geschlossene Bandförderer, Hochleistungs-, Eimeraufzüge, Industrie-Entladungs-Gates, Hochleistungs-Kettenförderer, Schraubenförderer, Gurtförderer, Industriekettenförderer, Eimer Aufzug s, Zubehör
Viehzuchtanlagen, Viehzuchtanlagen, Schweinezuchtlager, Geflügelhäuser, Schlüsselfertige Projekte, Wassertanks, Metallverkleidungen, Metallverkleidungen, Metallkonstruktionen
1675/5000
مجفف الحبوب، صوامع الحبوب، حبوب الحبوب، الحبوب ستورج، مصعد الحبوب، الحبوب الناقل، دلو المصعد، سلسلة الناقل، شقة باتوم صومعة، صومعة هوبر، منتجات الحبوب، محوري مروحة، حزام الناقلون، دلو المصعد، الطرد المركزي المشجعين، سلسلة الناقل نظافة، ناقل المسمار، مجففات التدفق المستمر، مجففات الحبوب المستمر، مجفف الطبل مجففات، الدرجات الأنظف، مجفف الناقل، الذرة المقشر، مجففات دوارة، المسمار الناقلات صوامع مربع، أنظمة درجة الحرارة، التخزين، دبابيس الحبوب، هوبر تانك، أونلوادس، المشجعين، تدفئة، التخزين المؤقت، توبري قطع غيار السيارات، الموزعات، أجهزة قياس الجاذبية، أنظمة ميكرو إنغريدينت، موزعات أوتوماتيكية، موازين ضخمة، محولات الشاحنة، أنظمة تخزين الغازات، أنظمة التجفيف التجارية، مجففات الحبوب، معالجة الحبوب، أغصان النقل، المعدات المستخدمة، المعدات الجديدة، أنظمة غسي للحبوب، خدمة مجفف البرج التجارية، معدات بولاريس أتفس، معدات نيو هولاند، أوسك سيد تراترز، بوش هوج ، مزارع المزرعة، صوامع القاع المسطح، صوامع تحميل الشاحنة، صوامع المزارع، صهاريج المزرعة، صوامع النطاط، صوامع الحبوب ، معدات المناولة، بوابات التفريغ الثقيلة، ناقلات الحزام المغلقة، الثقيلة، مصاعد دلو، بوابات التفريغ الصناعية، الثقيلة سلسلة الناقلون، ناقلات برغي، الحزام الناقلون، سلسلة الناقلون الصناعية، دلو مصعد الصورة، اكسسوارات معدات تربية المواشي، مستودعات تربية الخنازير، بيوت الدواجن، مشاريع تسليم المفتاح، خزانات المياه، تكسية المعادن، تكسية المعادن، هياكل معدنية
Збожжасушылка, элеватар, збожжавыя бункера, зерне сторг, Элеватарнай, зерне канвеер, Каўшова элеватар, ланцужной канвеер, плоскі Бат сілас, Hoper сілас, збожжавыя прадукты, Осевой вентылятар, істужачныя канвееры, Коўш ліфт, цэнтрабежныя вентылятары, ланцужной канвеер, зерне ачышчальнік, шрубавай канвеер, сушылкі бесперапыннага патоку, бесперапыннае зернесушылкі, барабанная сушылка
Асушальнікі, Градацыя ачышчальнік, канвеер сушылкі, кукуруза Шэлер, ротарныя сушылкі, шрубавыя канвееры
Квадратныя сілас, терморегулирующие, ЗАХОЎВАННЕ, збожжам шчытавое і скуловые танкі, разгружае, вентылятары, каларыферы, ЧАСОВАЕ ЗАХОЎВАННЕ, TOPDRY
Балтавых шчытавыя і X-SERIES УСХОДЫ, раскідвальнікам, кандыцыянаванне, У бін сушылкі, ПРАЦЯГ сушыльных FLOW, WATCHDOG TECHNOLOGY, BULLSEYE CONTROLLER, грейферные коўш, AIR SYSTEMS, дыстрыбутары, GRAVITY экраніруючая MICRO Інгрэдыент СІСТЭМА, Аўтаматычныя пробоотборники, Магістральныя дазатары, грузавіку датчыкаў, КАНСТРУКЦЫІ, збожжам нагі, Сельскагаспадарчыя сістэмы захоўвання, Commerical сістэмы захоўвання, зернесушылкі, абсталяванне для апрацоўкі збожжа, транспартныя шнека, былога ва ўжыванні абсталявання, новае абсталяванне, GSI Grain Systems, Commercial Service Tower Асушальнік, Polaris Усюдыходы, New Holland абсталяванне, USC Протравливатели насення, Bush Hog , Farm King, фермы збожжа захоўвання Бункеры, Камерцыйны збожжа захоўвання Бункеры, Хопер збожжа для захоўвання Бункеры, Excel зернесушылкі, Grain-разгрузачныя абсталяванне, збожжа, сістэмы кандыцыянавання, Bin аксэсуары, плоскае дно Бункеры, грузавіку нагрузкі Бункеры, Ферма Бункеры, Ферма Бункеры, Хопер Бункеры , Пад ёмна-транспартнае абсталяванне, звышмагутны газаразрадныя вароты, закрываемые істужачныя транспортеры, звышмагутныя, нория, Прамысловыя вароты, газаразрадная Узмоцнены ланцужныя канвееры, шнековые канвееры, істужачныя канвееры, прамысловыя ланцужныя канвееры, нории ы, аксэсуары
Жывёлагадоўля Абсталяванне, жывёлагадоўля абсталяванне, свінагадоўлі склады, птушнікаў пад ключ праекты, Ёмістасці для вады, металічныя абліцоўвання, Металічныя абліцоўвання, металічных канструкцый
শস্য ড্রায়ার, শস্য সিলো, শস্য বহন, শস্য বহন, শস্য লিফট, শস্য পরিবাহক, বালতি লিফট, চেন পরিবাহক, ফ্ল্যাট batom silo, hoper silo, শস্য পণ্য, Axial ফ্যান, বেল্ট Conveyors, বালতি লিফট, কেন্দ্রাতিগ ভক্ত, চেইন পরিবাহক, শস্য ক্লিনার, স্ক্রু পরিবাহক, ক্রমাগত প্রবাহ dryers, ক্রমাগত শস্য dryers, ড্রাম ড্রায়ার
ড্রিরেড, গ্রেডিং ক্লিনার, কনভেয়র ড্রায়ার, মাইসেজ শেলার, রোটারি ড্রাইন্ড, স্ক্রু কনভেয়ার্স
স্কয়ার সিলো, তাপমাত্রা পদ্ধতি, স্টোরেজ, গ্রাইন বিস্, হিপ্পার ট্যানকস, ইউএনডিএসএস, ফ্যান, হিটर्स, প্রফেশনাল স্টোরেজ, টপরিরি
বলিভিং বিন্দু, এক্স সিরিজ ল্যাডার, স্প্রেড, কন্ডিশনিং, বিইন ড্রায়ারস, ক্রমাগত ফ্লাওয়ার ড্রাইयर, ওয়াচডোগ টেকনোলজি, বুল্সেয় কন্ট্রোলার, ম্যাট্রিকাল হ্যান্ডলিং, এয়ার সিস্টেমস, ডিস্ট্রিবিউটরস, গ্যুইটি স্ক্রিনস, মাইক্রো ইনজেন্টেন্ট সিস্টেমস, স্বয়ংক্রিয় সাম্পলারা, বেলব ওয়েইটস, ট্র্যাক প্রসেস, স্ট্রাকচারস, গ্রীন লেজ, ফার্ম স্টোরেজ সিস্টেম, বাণিজ্যিক স্টোরেজ সিস্টেম, শস্য ড্রায়ারস, শস্য হ্যান্ডলিং, পরিবহন অগি্ননির্মাণ, ব্যবহৃত সরঞ্জাম, নতুন সরঞ্জাম, জিএসআই গ্রীন সিস্টেম, বাণিজ্যিক টাওয়ার ড্রায়ার সার্ভিস, পোলারিএটিভি ATVs, নিউ হোল্যান্ড সরঞ্জাম, ইউএসসি বীজ প্রতারক, বুশ হগ , কৃষি শস্য, খামার শস্য সংগ্রহস্থল সংগ্রহস্থল, বাণিজ্যিক শস্য সংগ্রহস্থল সংগ্রহস্থল, হপারের শস্য সংগ্রহস্থল পিনের, এক্সেল শস্য ড্রায়ারস, শস্য হ্যান্ডলিং যন্ত্রপাতি, শস্য কন্ডিশন সিস্টেম, বিন আনুষাঙ্গিক, ফ্ল্যাট নিট সিলোস, ট্রাক লোড সিলোস, ফার্ম সিলস, ফার্ম বিন্স, হপার সিলোস , হ্যান্ডলিং যন্ত্রপাতি, ভারি-দায়িত্ব স্রাব গেটস, সংযুক্ত বেল্ট Conveyors, ভারি-দায়িত্ব, বালতি উচ্চতা, শিল্পকৌশল স্রাব গেটস, ভারি-দায়িত্ব চেন Conveyors, স্ক্রু Conveyors, বেল্ট Conveyors, শিল্পকৌশল চেইন Conveyors, বালতি উত্তোলক এস, জিনিসপত্র
পশুখাদ্যের সরঞ্জাম, পশুসম্পদ সুবিধা, শূকর খামারের গুদামগুলি, হাঁস ঘরবাড়ি, ঘন ঘন প্রকল্প, জল ট্যাংক, মেটাল ক্ল্যাডিং, মেটাল ক্ল্যাডিং, মেটাল স্ট্রাকচারস
сушилня зърно, силоз за зърно, зърно зърна, зърно storge, зърно асансьор, зърно конвейер, кофа асансьор, верижен конвейер, плосък бум силоз, hoper силоз, зърнени продукти, аксиален вентилатор, колан транспортьори, кофа асансьор, центробежни вентилатори, верижен конвейер, зърно по-чисти, винтови конвейери, сушилни за непрекъснат поток, непрекъснати сушилни за зърно, барабанни сушилни
Сушилни, почистващи препарати, конвейерна сушилня, царевичен шейкър, сушилни за ротори, винтови конвейери
Квадратни силози, Температурни системи, СЪХРАНЕНИЕ, СКРАЙНА КОМПЛЕКТ, БАНКОВИ ТАНЦИ, РАЗТОВАРВАНЕ, ВЕНТИЛАТОРИ, ОТОПЛЕНИЕ, ВРЕМЕННО СЪХРАНЕНИЕ, ТОПЕРИ
ОСНОВНИ СИСТЕМИ, АВТОМАТИЧНИ ИЗМЕРВАТЕЛНИ СИСТЕМИ, ВЪГЛИЩНИ ТЕЖЕСТИ, ТОПЛИННИ ПРОБИ, ТРАНСПОРТНИ ТЕМПЕРАТУРИ, РАЗПРЕДЕЛИТЕЛИ, ХРАНИТЕЛНИ СИСТЕМИ, АВТОМАТИЧНИ СИСТЕМИ, АВТОМАТИЧНИ СИСТЕМИ, СТРУКТУРИ, ЗЕЛЕНА КРАКА, СКЛАДОВИ СЪХРАНЯВАЩИ СИСТЕМИ, Търговски Складови Системи, Сушилни за зърно, Почистване на Зърно, Транспортни Шнекове, Използвано Оборудване, Ново Оборудване, GSI Зърно Системи, Търговски Кухненски Сушилни Сервиз, ATVs Polaris, New Holland Equipment, USC Seed Treaters, Bush Hog , Farm King, кош за съхранение на зърно, търговски кошчета за съхранение на зърно, контейнери за зърно за съхранение на зърно, сушилни за зърно Excel, оборудване за обработка на зърно, системи за кондициониране на зърно, аксесоари за контейнери, силови плоско дъно, товарни камиони, селскостопански силози, , Подемно-транспортна техника, тежкотоварни помпи, затворени конвейери за колани, тежкотоварни кофи, асансьори, индустриални изхвърлящи врати, конвейери с тежка верига, винтови конвейери, конвейери за колани, конвейери за индустриални вериги, ите, аксесоари
Животновъдство, Животновъдство, Складове за прасета, Птицеферми, Проекти до ключ, Резервоари за вода, Метални облицовки, Метални облицовки, Метални конструкции
Obilné silo, obilné silo, obilné zrnky, zrní storge, zrnitý výtah, dopravník zrna, vědro výtah, řetězový dopravník, ploché tlustá silo, hoper silo, obilné produkty, axiální ventilátor, pásové dopravníky, korečkový výtah, odstředivé ventilátory, řetězový dopravník, čistič, šnekový dopravník, sušičky s nepřetržitým prouděním, nepřetržité sušárny zrna, bubnová sušička
Vysoušeče, Třídicí čistič, sušička dopravníku, Kukuřičná nádoba, Rotační sušárny, Šnekové dopravníky
Čtyřhranné silá, Teplotní systémy, SKLADOVÁNÍ, ZÁSOBNÍKY, NÁDRŽE ZÁSOBNÍKŮ, NÁKLADY, VENTILÁTORY, OHŘÍVAČKY, DOČASNÉ SKLADOVÁNÍ, TOPDRY
VYBAVENÉ BINY, X-SÉRIE LADDERS, rozstřikovače, kondicionování, v BIN sušičky, kontinuální sušičky, WATCHDOG technologie, BULLSEYE CONTROLLER, manipulace s materiálem, vzduchové systémy, distributory, gravitační SCREENERS, MICRO INGREDIENT SYSTEMS, AUTOMATICKÉ SAMPLERS, KONSTRUKCE, ZEMĚDĚLSKÉ KOLESY, Zemědělské skladovací systémy, Obchodní systémy skladování, Sušárny zrna, Manipulace s obilovinami, Dopravní šneky, Použité zařízení, Nové vybavení, GSI Grain Systems, Commercial Dryer Service, Polaris ATVs, New Holland Equipment, USC Seed Treaters, Bush Hog , Farm King, zemědělské koše, obchodní komory na skladování zrní, zásobníky na zrno, sušičky na zrno Excel, zařízení na zpracování zrna, systémy na úpravu zrna, příslušenství na odpadky, ploché dno siláže, silážní vozíky, , Manipulační zařízení, těžké vrtací brány, uzavřené pásové dopravníky, těžké nákladní, korečkové elevátory, průmyslové výtlačné brány, těžké nákladní řetězové dopravníky, šnekové dopravníky, pásové dopravníky, průmyslové řetězové dopravníky, výložníky s, Příslušenství
Zařízení pro chov hospodářských zvířat, Zařízení pro chov hospodářských zvířat, Chov drůbeže, Hydina, Projekty na klíč, Vodní nádrže, Kovové obklady, Kovové obklady, Kovové konstrukce
谷物烘干机,谷仓,谷仓,粮仓,粮食升降机,粮食输送机,斗式提升机,链条输送机,平底冰箱,锄头料仓,粮食产品,轴流风机,皮带输送机,斗式提升机,离心风机,链式输送机清洁剂,螺旋输送机,连续流动干燥机,连续干燥机,鼓式干燥机
干燥机,分级清洁机,输送干燥机,玉米脱壳机,旋转干燥机,螺旋输送机
方形筒仓,温度系统,存储,谷物,扒罐,卸载,风扇,加热器,临时​​存储,TOPDRY
螺栓,X系列梯子,螺旋桨,搅拌机,连续式干燥机,看门狗技术,BULLSEYE控制器,材料处理,空气系统,分销商,GRAVITY筛选器,微型成分系统,自动采样器,批量重量,卡车探头,结构,谷物,农场存储系统,商业存储系统,谷物干燥机,谷物处理,运输俄歇,二手设备,新设备,GSI粮食系统,商业塔式烘干机服务,北极星ATV,纽荷兰设备,USC种子处理器,布什猪,农场王,农用粮仓,商业谷物仓库,料斗粮仓,Excel谷物干燥机,谷物处理设备,谷物调理系统,斌配件,平底仓,货车仓库,农场仓库,农场仓,料斗仓,搬运设备,重型排污门,封闭带式输送机,重型铲斗电梯,工业排污门,重型链条输送机,螺旋输送机,皮带输送机,工业链条输送机,斗式升降机S,配件
家畜设备,畜牧设施,养殖仓库,家禽舍,交钥匙工程,水箱,金属包层,金属包层,金属结构
穀物烘乾機,穀倉,穀倉,糧倉,糧食升降機,糧食輸送機,斗式提昇機,鏈條輸送機,平底冰箱,鋤頭料倉,糧食產品,軸流風機,皮帶輸送機,斗式提昇機,離心風機,鍊式輸送機清潔劑,螺旋輸送機,連續流動干燥機,連續乾燥機,鼓式乾燥機
乾燥機,分級清潔機,輸送乾燥機,玉米脫殼機,旋轉乾燥機,螺旋輸送機
方形筒倉,溫度系統,存儲,穀物,扒罐,卸載,風扇,加熱器,臨時存儲,TOPDRY
螺栓,X系列梯子,螺旋槳,攪拌機,連續式乾燥機,看門狗技術,BULLSEYE控制器,材料處理,空氣系統,分銷商,GRAVITY篩選器,微型成分系統,自動採樣器,批量重量,卡車探頭,結構,穀物,農場存儲系統,商業存儲系統,穀物乾燥機,穀物處理,運輸俄歇,二手設備,新設備,GSI糧食系統,商業塔式烘乾機服務,北極星ATV,紐荷蘭設備,USC種子處理器,布什豬,農場王,農用糧倉,商業穀物倉庫,料斗糧倉,Excel穀物乾燥機,穀物處理設備,穀物調理系統,斌配件,平底倉,貨車倉庫,農場倉庫,農場倉,料斗倉,搬運設備,重型排污門,封閉帶式輸送機,重型鏟斗電梯,工業排污門,重型鏈條輸送機,螺旋輸送機,皮帶輸送機,工業鏈條輸送機,斗式升降機S,配件
家畜設備,畜牧設施,養殖倉庫,家禽舍,交鑰匙工程,水箱,金屬包層,金屬包層,金屬結構
հացահատիկ չորանոց, հացահատիկ silo, հացահատիկի Աղբամաններ, հացահատիկ Storge, հացահատիկ վերելակ, հացահատիկ CONVEYOR, շերեփ վերելակ, շղթա conveyor, հարթ batom silo, HOPER silo, հացահատիկի արտադրության, սռնու երկրպագու, Գոտի փոխակրիչ&a